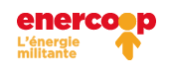 Enercoop
In 2004, a working group of about twenty actors from renewable energies, citizen associations and the social and solidarity economy come together to invent a new energy model. Created by Greenpeace, Biocoop, Hespul, the CLER, the Friends of the Earth and the NEF, Enercoop was born legally in 2005 in the form of a Cooperative Society of Collective Interest.
Access to energy is an essential need, which the current French model does not allow to satisfy correctly. On the contrary, this model is at the origin of major environmental, economic and social problems and imbalances.
At Enercoop, we aspire to another model, just and sustainable.
Our vision: a society in which everyone can access 100% renewable energy; a sober energy model, local, organized in the framework of a shared, transparent and democratic governance.
One case study
An article