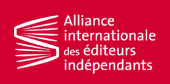 Alliance Internationale des Editeurs Indépendants (AEI)
The International Alliance of independent publishers is a professional collective convening more than 500 independent publishing houses, from 50 countries around the world. Created as an association in 2002, it is composed of 6 language networks (English, Arabic, French, Spanish, Portuguese and Persian). Members of the Alliance are publishing houses and national publisher collectives.
The Alliance's activities promote and strengthen bibliodiversity (cultural diversity applied to the world of the book).
In alignment with its missions, the Alliance created a Bibliodiversity Observatory that gathers studies, analysis and measure tools produced by the Alliance, and aimed at professionals and public authorities. The Observatory's objectives include assessing and strengthening bibliodiversity in world.
The Alliance also hosts and facilitates international meetings and thematic workshops (for example on children's book publishing, digital publishing, etc.) enabling independent publishers from various continents to share and initiate collaborations. These meetings support capacity building through sharing, an aspect developed around the issue of digital publishing in the context of the Digital Lab. The Alliance supports international publishing projects (solidary copublishings, translations, copyrights transfers, etc.), for a greater circulation of texts and fair access to books for readers.