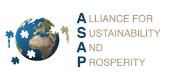 Alliance for Sustainability and Prosperity (ASAP)
ASAP was created by several members of the International Expert Working Group (IEWG), convened by the King of Bhutan with the objective of designing a New Development Paradigm (NDP), to invite wider participation by a cross-section of society and facilitate the global movement to craft a sustainable future by
1. Bringing together parties interested in redefining the relationship between humans, economic life and nature, and
2. Serving as a collective forum for information, debate and exchange.
ASAP content will represent the best of the collective knowledge of its contributors, and will be disseminated in multiple fora and in various formats, for multiple audiences.
All submissions will be accepted provided they fulfill the General Guidelines, and ASAP's steering committee, initially drawn from the IEWG, will evaluate and select submissions that add real value to the best practice information already on hand. Moderated debate will allow a productive exchange of views.