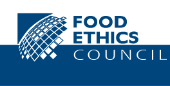 Food Ethics Council
The Food Ethics Council believes that we can have a better, fairer food system: where it is easy to eat well and global hunger is a distant memory; where farmers and food producers make a decent living, animals are treated humanely, and the environment is respected.
The Food Ethics Council helps find a way through controversial issues and develops tools for ethical decision-making. Our members lead this work in a voluntary capacity, and our staff support them through research, analysis and advocacy.
We work on issues ranging from the power of the supermarkets, food poverty and workers' rights, to air freight, genetic modification, meat and climate change, and water scarcity.
Our work includes:
Food Ethics magazine - essential reading on one key issue each quarter, containing cutting edge analysis, debate, reviews and upcoming events.

Business Forum - an opportunity for senior food executives to gain expert insight into ethical issues that are becoming core business concerns. Hosted by leading opinion formers, each of the bi-monthly meetings meets over dinner to discuss key issues.

Publications - we produce reports on key issues of the day, from food distribution to food packaging and many more.

Ethical tools - our publication 'Ethics – a toolkit for business' introduces business leaders and policy makers to key ideas in ethics and provides a framework for making better decisions.

Workshops and events - we organise policy workshops, conferences and seminars, independently and in partnership with others.
Documento de análise/working paper/articulo