Beyond Alternative Food Networks Italy's Solidarity Purchase Groups
Cristina Grasseni, Bloomsbury Publishing, May 2013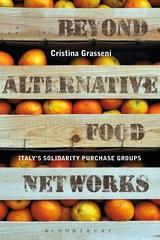 Food activism is core to the contemporary study of food - there are numerous foodscapes which exist within the umbrella definition of food activism from farmer's markets, organic food movements to Fair Trade. This highly original book focuses on one key emerging foodscape dominating the Italian alternative food network (AFN) scene: GAS (gruppi di acquisto solidale or solidarity-based purchase groups) and explores the innovative social dynamics underlying these networks and the reasons behind their success.
Based on a detailed 'insider' ethnography, this study interprets the principles behind these movements and key themes such as collective buying, relationships with local producers and consumers, financial management, to the everyday political and practical negotiation involving GAS groups. Vitally, the author demonstrates how GAS processes are key to providing survival strategies for small farms, local food chains and sustainable agriculture as a whole.
Beyond Alternative Food Networks offers a fresh and engaged approach to this area, demonstrating the capacity for individuals to join organised forms of alternative political ecologies and impact upon their local food systems and practices. These social groups help to create new economic circuits that help promote sustainability, both for the environment and labor practices.
Beyond Alternative Food Networks provides original insight and in-depth analysis of the alternative food network now thriving in Italy, and highlights ways such networks become embedded in active citizenship practices, cooperative relationships, and social networks.
Table Of Contents
Acknowledgements
List of Figures
Introduction
Alternative Provisioning Networks
The Reinvention of Food
Re-weaving the Economy
Networks in Labor
Seeds of Trust
Conclusion
Notes
Glossary
References
Index