HERE AND NOW! EDUCATION FOR SUSTAINABLE CONSUMPTION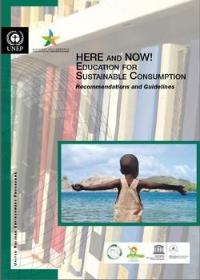 This publication provides recommendations and guidelines aimed at policy makers and educators on how to best integrate and implement Education for Sustainable Consumption (ESC) in the formal education sector. Also available in Chinese and Spanish!
It contains two main chapters:
a) « Addressing the challenges » illustrates the importance of ESC to policy makers and its contribution in achieving major policy goals such as environmental protection and sustainable development strategies;
b) « Optimizing opportunities » is targetted to educational authorities, teacher trainers and educators to include ESC in their curricula and teaching activities. This chapter contains a series of inspiring case studies and best practices from all over the world.
The purpose of Here and Now! is:
1) to provide policy makers with an instrument to understand the importance of Education for Sustainable Consumption in supporting other policy goals such as citizenship and democratic participation, environmental protection or energy and climate policies.
2) to give policy makers guidance on how to integrate ESC into existing educational and sustainable development strategies
3) to provide educators with tools and instruments in order to include ESC in curricula.
Here and Now! has been jointly developed by UNEP and the Marrakech Process Task Force on ESC led by Italy, in collaboration with the United Nations Decade on Education for Sustainable Development and Hedmark University College in Norway