Creating Wealth. Growing Local Economies with Local Currencies.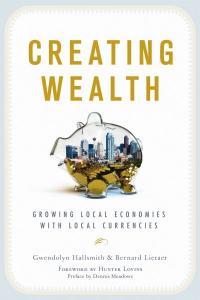 Communities everywhere are challenged by issues such as health, elder and child care, housing, education, food security and the environment. On the surface, these problems appear to be rooted in economic crisis — forexample budget cuts have triggered reduced public services, soaring food prices have created food security concerns, and the subprime mortgage disaster has spawned record increases in foreclosures and homelessness.
However if communities could match their unmet needs with their underutilized resources, many would find that while their economies may bestruggling when measured in traditional terms, they possess enough genuine wealth to allow all their inhabitants to enjoy a vastly improved quality of life. Creating Wealth demonstrates how a healthy society can beattained through developing new systems of exchange. Using creative initiatives such as time banks, systems of barter and exchange and local currencies, cities and towns can empower themselves and build vibrant, healthy, sustainable local economies.
In addition to presenting many compelling case studies of successful alternative currencies in action, Creating Wealth also explores the different types of capital that communities have to draw on, including natural, built, social, human, institutional, cultural, technological, and financial. This book will appeal to community activists, city planners and other public officials, and anyone interested in developing strong local economies.