UNE ÉCONOMIE SOLIDAIRE PEUT-ELLE ÊTRE FÉMINISTE ? Homo oeconomicus, mulher solidaria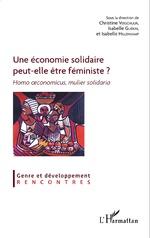 Comment expliquer le faible intérêt, dans la littérature sur l'économie sociale et solidaire, pour le genre et les théories féministes, alors que ces initiatives sont fortement genrées et que les femmes y sont surreprésentées ? A quelles conditions ces initiatives sont-elles une opportunité de réinvention de l'économie, réencastrée dans le social et le politique et au service de la justice sociale et de genre ? L'économie solidaire peut-elle constituer une source d'émancipation pour les femmes ou non ? (Articles en français, anglais, espagnol).
Table des matières
Pourquoi croiser l'économie féministe et l'économie solidaire? Christine Verschuur, Isabelle Guérin et Isabelle Hillenkamp
Économie féministe et économie solidaire: quels croisements?
La economía feminista desde América Latina: ¿Una vía para enriquecer los debates de la economía social y solidaria? Valeria Esquivel
Féminisme et économie solidaire. Jean-Louis Laville
Solidarités, reproduction et production
Solidaridad sistémica, solidaridad de proximidad y equidad de género: una lectura desde América Latina. Fernanda Wanderley
Exploring conceptions of the social and solidarity economy: informal financial groups in Kenya. Susan Johnson
Organising, gender, and solidarity: some reflections on Indian experience. Ratna M. Sudarshan
Un douteux retour du partage et de la gratuité. Jean-Michel Servet
Sécuriser l'existence des femmes et résister. Raisons d'agir des initiateurs et initiatrices d'organisations de l'économie sociale et solidaire. Magalie Saussey et Florence Degavre
Solidarités, travail et rapports sociaux
L'entreprise qui nettoie l'IHEID peut-elle être sociale et solidaire? Christophe Dunand
Weaving at the Crossroads of Gender and Ethnicity. Or can the collective entrepreneurship of women working in the tourism industry of Peru be interpreted as feminist solidarity? Anelou Ypeij
The Edges of Vision in Mapping Solidarity Economies: Gender and Race in US cities. Maliha Safri
Solidarités, féminismes et rapport au politique
Missed opportunities, mixed messages and lessons learned: collective kitchens in marginal urban communities of Peru. Jeanine Anderson
Organising social protection through solidarity of women workers: experiences of the Self-Employed Women's Association, SEWA, in India. Mirai Chatterjee
Les initiatives solidaires de femmes et les pouvoirs publics : une dure confrontation. Madeleine Hersent
Économie solidaire et études féministes. Quelles perspectives?
Economía solidaria, agroecología y feminismo: prácticas para la autonomía en la organización del trabajo y de la vida. Miriam Nobre