People Over Capital: the co-operative alternative to capitalism
coord. Rob Harrison, New Internationalists books, London, ottobre 2013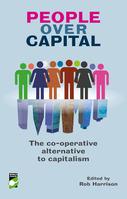 Scientists are pointing to increasingly dangerous levels of climate change and habitat destruction, Europe and America are facing their worst economic problems for a generation, and social movements around the world are calling for sweeping reforms.
Do co-operatives offer an alternative model of social organisation which could address some of these key issues? Or do they simply offer another way of organising businesses within a predominantly capitalist economy? What would the world look like if co-operatives grew to gradually replace private businesses across every economic sector? Would it be much the same? Would it be somehow transformative or utopian?
This book brings together fourteen different perspectives on one of the most promising alternative economic models available today. Economists, academics, co-operators, politicians, campaigners and ordinary people combine to bring a rich array of experiences and insights to kick off a new global debate on how much better a co-operative future might be.