Ethical Consumption. Social Value and Economic Practice.
Edited by James G. Carrier, Peter G. Luetchford, Bergham 21, New York, Oxford, October 2014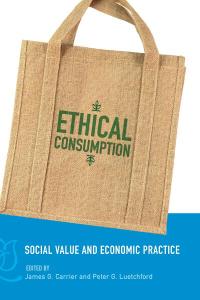 Increasingly, consumers in North America and Europe see their purchasing as a way to express to the commercial world their concerns about trade justice, the environment and similar issues. This ethical consumption has attracted growing attention in the press and among academics. Extending beyond the growing body of scholarly work on the topic in several ways, this volume focuses primarily on consumers rather than producers and commodity chains. It presents cases from a variety of European countries and is concerned with a wide range of objects and types of ethical consumption, not simply the usual tropical foodstuffs, trade justice and the system of fair trade. Contributors situate ethical consumption within different contexts, from common Western assumptions about economy and society, to the operation of ethical-consumption commerce, to the ways that people's ethical consumption can affect and be affected by their social situation. By locating consumers and their practices in the social and economic contexts in which they exist and that their ethical consumption affects, this volume presents a compelling interrogation of the rhetoric and assumptions of ethical consumption.
Contents
List of figures
Preface
Introduction
James G. Carrier
Section I: Producers and Consumers
Section Introduction
Chapter 1. Good chocolate? An examination of ethical consumption in cocoa
Amanda Berlan
Chapter 2. Consuming producers: fair trade and small farmers
Peter G. Luetchford
Chapter 3. 'Trade, not aid': imagining ethical economy
Lill Vramo
Chapter 4. 'Today, one can farm organic without living organic': Belgian farmers and recent changes in organic farming
Audrey Vankeerberghen
Section II: Ethical Consumption Contexts
Section Introduction
Chapter 5. Narratives of concern: beyond the 'official' discourse of ethical consumption in Hungary
Tamás Dombos
Chapter 6. Critical consumption in Palermo: imagined society, class and fractured locality
Giovanni Orlando
Chapter 7. On the challenges of signalling ethics without the stuff: tales of conspicuous green anti-consumption
Cindy Isenhour
Chapter 8. Ethical consumption as religious testimony: The Quaker case
Peter Collins
Chapter 9. Re-inventing food: the ethics of developing local food
Cristina Grasseni
Conclusion
James G. Carrier and Richard Wilk