ASEC OPEN SPACE ON SOCIAL INCLUSION AND SOCIAL PROTECTION 19 May 2021
At the 2021 Asia Europe People Forum (AEPF), ASEC hosted an Open space conversation on social inclusion and social protection. About 90 people participated in this global conversation, which was held online on March 19, 2021. There were nine key speakers and three moderators.
Notes on Social Inclusion and Social Protection
Social inclusion is the process of improving the ability, opportunity, and dignity of those disadvantaged on the basis of their identity to take part in society.
Social inclusion programs and policies are designed to address the underlying drivers of exclusion, including prejudices, legal and policy frameworks.
One of the major strategies of social inclusion is the setting up of institutions which deliver services that ensure access of those most at risk to the opportunities and resources (finance, input supply, markets, technology, knowledge, skills, etc.) necessary to participate fully in economic, social, cultural and political life. (UNDP)
Social Protection is another major strategy for achieving social inclusion. Social protection measures aim to provide benefits to guarantee income security and access to essential health care, such as insurance, disability benefits, old-age pensions, cash and in-kind transfers, and other contributory and tax-financed schemes.
12.20 PM : AEPF Host Kathy Bernaerts opens the designated AEPF webinar room

Introduction to the Moderators, Speakers, and Social Media Team
OPENING SESSION
12.30-12.35PM
Moderator: Dr. Ben Quinones
Welcome address by Dr. Ben Quinones
12.35-12:45PM
Dr. Rene Ofreneo speech on Social Inclusion and Social Protection under the neoliberal system vs. people's alternatives
CASE PRESENTATIONS
12.45-13.10PM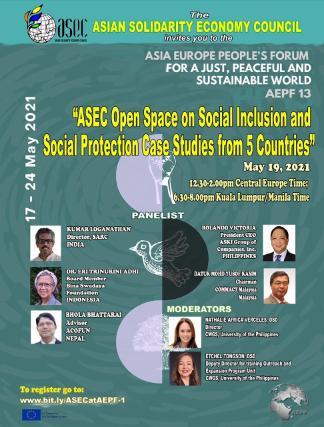 Moderator: Dr.Nathalie Africa Verceles
Social Inclusion and Social Protection Alternatives of People's Organizations: Experiences in Asia
– ASSEFA (India) by Kumar Loganathan
– Bina Swadaya (Indonesia) by Dr. Eri Trinurini
– Cooperative sector (Malaysia) by Datuk Dr. Mohd Yusof Kasim
– Forest User Groups (Nepal) by Bhola Bhattarai – Alalay sa Kaunlaran Inc (Philippines) by Rolando Victoria
See the presentations: Case Studies from 5 countries
OPEN FORUM
13.10-13.35PM
Moderator: Dr. Etchel Tongson
Reflections on People's Alternatives by:
John Restakis, Co-founder, Synergia Institute

Balu Iyer, Regional Director, International Cooperative Alliance-Asia Pacific

Shigeru Tanaka, Joint Coordinator, RIPESS
13.35-13.50PM
Responses of resource speakers to queries from participants (as posted in the chat room)
CLOSING SESSION
13.50-2.00PM
– Way Forward, by Dr. Ben Quinones
PHOTOS