Beyond COVID19 emergency: Food sovereignty and the right to food
RIPESS SSE 2020 Global Vision
Original webpage: www.ripess.org
After publishing in 2015 the document "Global Vision of the Social Solidarity Economy: Convergences and Contrasts in Concepts, Definitions and Conceptual Frameworks", RIPESS is preparing the SSE Global Vision 2020. This project proposes an open process of debate with the objective of gathering diverse and different SSE voices around the world in an effort to include different SSE perspective and visions.
This global vision contains the visions and conceptions of the SSE of the entire Intercontinental Network following a process that allowed for progress towards greater convergence between the members and taking into account the different perspectives due to the cultural, historical and linguistic diversity and the very evolution of the actors and movements that form the SSE.
This is an opportunity to work together for the year 2020 in order to better explain and position our vision of the SSE from an international and translocal perspective.
Title : Beyond COVID19 emergency: Food sovereignty and the right to food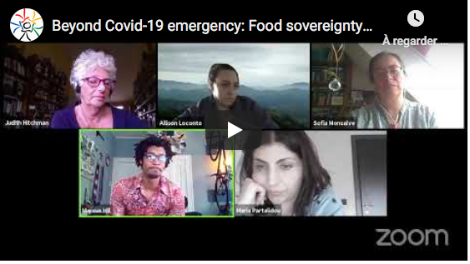 URL : youtu.be/1lGhP7u0oQc
When: Thursday April 30th.
Language: English
Speakers: Qiana Mickie, Just Food (North America); Judith Hitchman, Urgenci International and RIPESS
Special guest: Marcus Hill, RIPESS US Sen (North America).
Introduction
Humanity is facing one of the most serious and uncertain crises in recent history. The current globalization of the COVID-19 pandemic has allowed it to spread to all countries. Even remote populations are at risk, as are populations in war zones and those living in cramped conditions with poor hygiene such refugee camps, putting the lives of human beings at risk in an increasingly globalized world.
This webinar firstly addressed how the present crisis is affecting the right to food and food security from both producers and consumers points of view, and then to explore how the existing social solidarity economy can provide an important part of the answer. It is essential to break with the neoliberal existing commodification of food to do so and build legislation to support connecting farmers to markets. 54 states and other bodies now have some form of SSE legislation in place. How can we use this to better implement the right to food, in both formal and informal economies?
As expressed in RIPESS' statement, the challenge we face is how to build an alternative model of development, driven by the needs of all peoples and communities around the world, and the protection of our planet. The window of opportunity is now open to accelerate the process, capitalise on the thousands of ingenious solutions being created within communities and make positive change permanent and global in all its diversity.