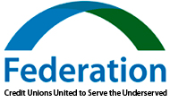 Federation of Community Development Credit Unions
A community development credit union (CDCU) is a credit union with a special mission of serving low- and moderate-income people and communities.CDCUs offer an economic lifeline to low-income communities that have been abandoned by commercial banks and targeted by high-priced check cashers and predatory lenders. CDCUs also provide a platform to serve the broader community through outreach to disadvantaged populations and neighborhoods, participation in government programs, and partnerships with the private-sector in community revitalization efforts.
The Federation's primary membership includes more than 200 community development credit unions (CDCUs) in low‐income urban, rural, and reservation‐based communities in 42 states and the District of Columbia. At the close of 2009, our member credit unions were serving more than 1 million people, with aggregate assets of more than $5 billion.
Analysis document/working paper/article